Trainee Online Assessment
CUSTOMIZING – Creation of appealing "welcome videos" to address individual applicants
CUSTOMIZING – modular structure of subtests: You decide which competencies are relevant for your target group
Pre-Assessment / Assessment – valid statement about the specific aptitude / fit of an applicant
Provision of a differentiated results report
The Trainee Online Assessment in detail
Recruitment through gamified trainee online assessment
"Games" have for a long time ceased to be associated only with game consoles and nerds in darkened rooms. They have become a core topic for companies that want to present themselves as innovative and attractive on the employee market.
Gamified applications such as the Trainee Online Assessment actively counteract declining applicant numbers by attracting applicants. Game mechanisms and game dynamics trigger positive impulses and thus motivate a participant to perform at their best. In a targeted manner, exciting and at the same time entertaining online experiences are combined with practical professional content. Thus, the recruitment approach is used to activate an applicant for the target position on a long-term basis. The first impulse in the direction of employer branding is thereby already set.
Simulation of a practical work environment
In the course of the increasing relevance of gamification for the working world, the Trainee Online Assessment offers an intuitive, modular structured and attractive digital test procedure for the selection of trainees.
Adapted to the target level, both the difficulties of the individual subtests and the norm group differ.
The interactive design of the trainee online assessment helps to simulate an active, demanding and – above all – practical work environment. Applicants find themselves in multi-faceted and attractive work situations, such as a fictitious Outlook environment. There, they have to prove their job-specific competence. The Trainee Online Assessment deliberately omits lengthy text-based instructions and relies on animated instructional videos that provide playful insights into the scenario.
Five individual challenges with varied answer formats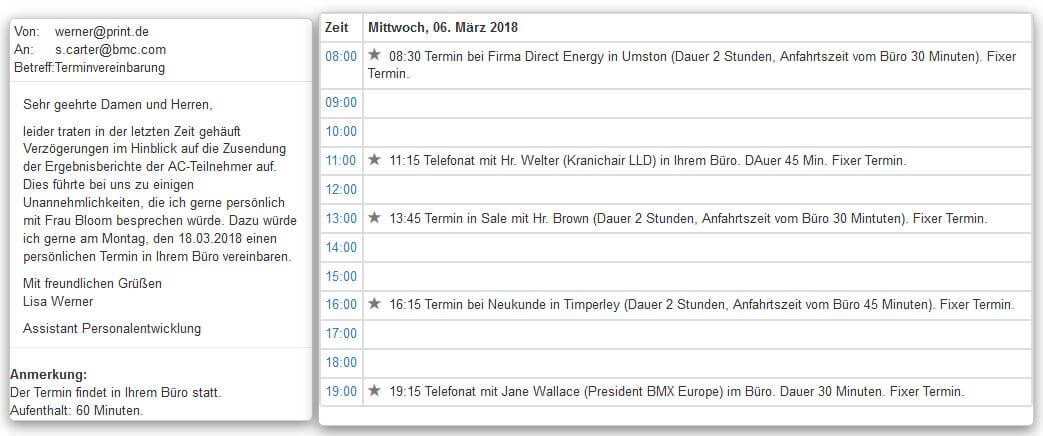 For a total of 60 minutes, the applicant enters the world of "Brooklynmaxx Consulting". In the context of an assistant role, he/she supports the supervisor under time pressure in five exciting "challenges".
This includes, for example, making urgent decisions for the supervisor, planning and prioritizing appointments, evaluating business charts and proofreading texts.
With the latter it is particularly fascinating that one does not choose between available answer alternatives (á la multiple choice), but instead corrects the errors (spelling, orthography, grammar) in a free format and directly in the application. The system automatically checks in the background whether individual words, sentences and punctuation marks have been successfully corrected and delivers an automatically generated results report immediately after execution. This results report provides information on the score achieved for each sub-test.
Core skills such as organizational and numerical competence are assessed together with other facets such as task-specific accuracy and retentivity. The Trainee Online Assessment thus provides a clear and unbiased view of an applicant's skills set.